Goldsmith & Watchmaker
Craftsmanship that has existed for millennia. Fine jewels have always held a unique attraction, seducing the senses and taking us into a world full of beauty, radiant power and mystic energy. These sparkling wonders are produced by our goldsmiths. For almost 100 years, the name of Juwelier Wagner has stood for top-quality jewellery and watches. The house of Wagner has a team of specialists in the design and realisation of brilliant jewellery collections.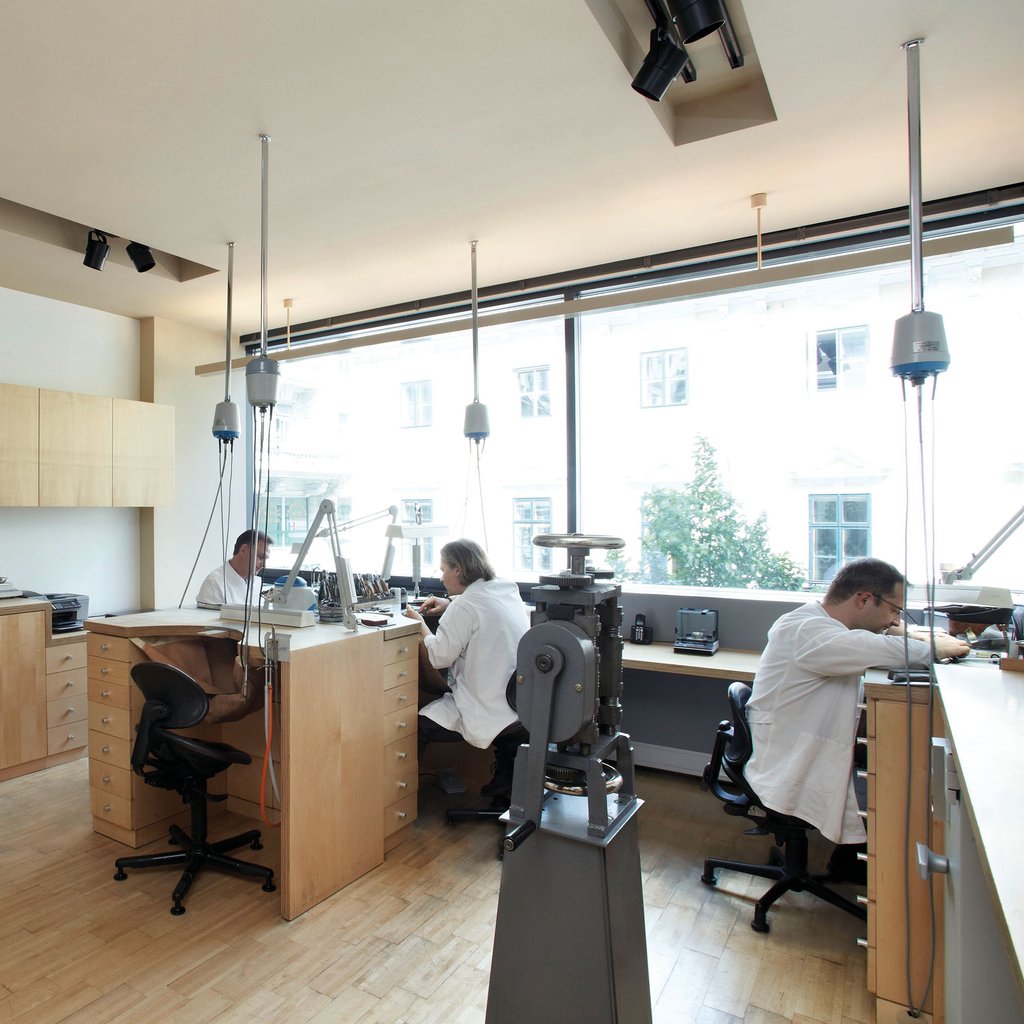 The Wagner Jewelry Workshop
Since its formation in 1917, the Vienna-based jewellery company Wagner has been dedicated to jewellery at the highest level of quality.
The production of single pieces and the fulfilment of individual customer requirements characterised the early years. Over time, additional pieces would increasingly be made for existing single items, in order to form a complete set.
In 1991, the first Wagner jewellery collection, LeGrale®, was launched. Since the huge success of this collection, the Wagner has been recognized as leader in exclusive jewellery creations in Austria. Further collections followed: Solitaire, Masterpiece, Star Light, Big Heart, Rivière, Signature, il Ponte, Living Stones, Colosseo, and Or´Diva.
The Wagner team is available for expert customer advice in the sphere of special jewellery productions, advice on how to maintain the value of jewellery items, and for repairs to damaged parts.
The watchmaking workshop at Juwelier Wagner
The watchmaker's art is a fascinating craft – and one which visitors to Juwelier Wagner can see for themselves: a large viewing window offers a view into the watchmaking workshop.
The watchmaking workshop is fully equipped to fulfil its many and varied functions: housed in very well-lit premises, it has the latest technical equipment. Hygiene and a dust-free atmosphere are of the greatest importance in a watchmaking workshop. Juwelier Wagner has the highest standards and has installed an air conditioning system with extra fine filters. The sealed polishing room and the wash room are subject to constant slight underpressure, thus ensuring that no dust particles can escape into the watchmaking workshop.
Through the viewing window, five of the six workbenches that were specially produced for Juwelier Wagner can be seen. All the watchmakers' workplaces are equipped with small tools that meet the very latest technical standards.
Watch manufactures recommend that servicing is carried out about every 5 years in order to maintain the value of a watch. The works are cleaned, washed and reoiled, worn parts such as sealing rings are changed, any traces of wear on the watch case are removed as far as possible. Damaged gold bracelets are treated or repaired in the company's own goldsmiths' workshop.